It was a rainy, cookie-making kind of day at the beginning of the week. Sommer wanted to make "heart cookies with pink frosting." I tried to change her mind but she wanted to make sugar cookies. I wanted to get something else done that day besides cookies but I gave in, to her delight.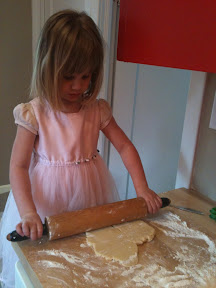 She said, "but mom, you made sugar cookies with Cannon so you can make them with me!"
(On Sunday Cannon wanted to "bake something," so I helped him make sugar cookies with blue frosting.)
That got me. The kitchen was a mess, I didn't get any laundry folded, but the 3-year-old was happy.
Note to self: don't bake sugar cookies twice in one week. (unless it means happy time with happy kids. Then the mess and time is worth it.)
via Paige's iPhone